---
Joyraj Koner: Batch 2014-2018
Learning & Development Coordinator at ITC Gardenia
Bangalore, India

"
I would like to take this opportunity for expressing my sincere gratitude to the management & the faculty members of RUAS, FHMCT, without whose help, I wouldn't be in a position to write this.
I consider myself fortunate enough to have been placed in such a unique department, serving a unique role with one of the leading Hotel chains of the country. My dream and aspirations has been made possible by the collective efforts of team FHMCT, by inculcating the ethics, morals and values of a professional during my days in college. All the teachings, lessons and assignments that I have gone through have gradually helped me develop, sharpen & polish my skillset to earn this rewarding job and has also contributed in recognizing me as a competent resource for the company.
While on the same subject, I would like to throw some light on the high standards of grooming & personal development that is maintained in RUAS – FHMCT and due to which I blended seamlessly into the white-collar industry. When I look back on all those days of hard work and pain, I can say with pride & honour, that they were totally worth it. I would be forever indebted to my alma matter and its wonderful team of faculty members for the many lessons and opportunities that was given to me."

---
Madhusudhan Kashyap: Batch 2012-2016
"I felt welcomed and at ease from the first day I entered the college. The staff are some of the most amazing people I've met and I owe a great deal of my career to them. We were always encouraged to take part in various co-curricular activities and competitions, this not only helped in our holistic growth, but also helped us in building a network with other professionals and students. I would like to thank everyone at FHMCT for their continued support and encouragement. "
---
Parismita Baruah: Batch 2014-18
F&B Assistant,The Oberoi Bangalore

"FHMCT, RUAS has been the backbone behind my personality, skills and a successful career.
I owe a lot to the professors and management for molding me into a good hotelier."
---
Tia Anasuya: Batch 2011-2015
When I studied Hotel Management at Ramaiah, it was called M.S. Ramaiah College of Hotel Management. We were still under Bangalore University, our building was still half under construction and every day I had poori and musk melon juice at the only breakfast place on campus, Ganesh Darshan. I loved every minute of it.

Today though, you enter the gates of M.S. Ramaiah University of Applied Sciences (now independent from BU), it looks like a university that could easily stand up to any foreign university in the world today. Stunning greenery is everywhere you look and there is an enhanced air of academia. You see students who lead well-balanced lives between extra curricular activities, and learning their curriculum. You can tell because while there are a few stressed out faces, as is the case in any institute most of the faces are all smiles while they now devour food from the wide variety of eating joints that have sprouted all over campus. The progress of this university has been truly incredible.

One thing that hasn't changed though is the commitment of the faculty to excellence, in both imparting their knowledge to the students as well as being there for them as people to support them in their lives. The faculty has always managed to strike a healthy balance between being lecturers and being fully approachable even outside class to hear out a student in need. This is why, although hotel management is a difficult field to enter into, with long work hours, and a physically and mentally demanding work environment, the students are prepared for the world they will enter into after graduating college, whichever path they choose, because the faculty have strengthened them and given them all the knowledge necessary for a successful career.

I have worked in a few different countries, and I didn't realize it before but this college gave me the tools I required to hold my own in different international kitchens around the world. I have made lifelong friends, from both the student body and faculty at Ramaiah and I am proud to call M.S. Ramaiah University of Applied sciences my alma mater.

Hazel Carolyn: Batch 2014-2018
"I Hazel Carolyn is grateful for Ramaiah, as it has given such a wonderful start to my career and has founded with opportunities that has helped me nurture my strengths in the hospitality industry. The faculty of Ramaiah have always been our shining armour and been by our side throughout the tenure. Much appreciation to FHMCT.
I hold currently the position of Concierge of The Oberoi, Bengaluru and a member of Southern region concierge association of India."

Mr. Shreyas Bhatt, Chef-in-Charge of the restaurant Hammered, is an alumnus of MSRCHM, Batch 2000 - 2014. He interacted with the students of batch 2015-19 and spoke to them about the various facets of Special Culinary Art 28th May 2019
Mr Gurudath of Pizza Bakery is an alumnus of MSRCHM and interacted with the students of batch 2015-19 and addressed the intricacies of Restaurant Entrepreneurship on 28th May 2019
Venkatesh Subramani
Mr Venkatesh Subramani, is an alumnus of MSRCHM and interacted with the students of batch 2015-19 and addressed the intricacies of Housekeeping Entrepreneurship on 28th May 2019
Tia Abraham
Ms. Tia Abraham, batch 2000 - 2014 interacted with the students of batch 2017-21 and addressed the challenges and opportunities faced by hospitality students during the industrial exposure training. Her valuable inputs would go a long way in preparing the students for the hospitality industry
Snijith Nair:
Nov 2015- Seminar on Opportunities in the Tourism Industry (MBA Hospitality)

Vivek Alby: Batch 2011-2015
Nov 2015- Field Visit to Natures Basket (MBA Hospitality)

Monish Raj: Batch 2011-2015
Nov 2017 Sensory Evaluation for Pairing Cocktails and Kebabs

Madhusudhan Kashyap: Batch 2012-2016
Dec 2018- External Examiner for first semester

Tia Abraham: Batch 2011-2015
Jan 2019- Host for Smart Food Culinary Challenge (Reality Show)

Namrata Stanley: Batch 2000-2004
March 2019 - Seminar on Wine Tourism and Career Opportunities in the Wine Industry in France

Mr. Joyraj K: Batch 2014-2018, Learning & Development Executive, ITC Gardenia
Date: 22nd March, 19
Time: 2:30-5:30 pm
Delivered a lecture during Field Visit at ITC Gardenia

Mr. Yeshasvi Singh: Graduated from MSRCHM: Batch 2008-2012, Assistant Manager- Revenue Management & Distribution, Lemon Tree Hotel
Date: 20th Nov, 17 (Monday)
Time: 2:30 to 4:30 pm
Delivered a seminar on: Role of PMS and the technologies utilized in the hotel industry, maximization of room revenue through forecasting

Chef Aman Tandon: Batch 1994
Executive Chef, Crowne Plaza, Ahmedabad City Centre, India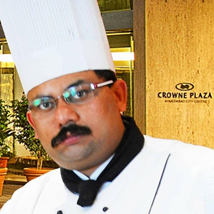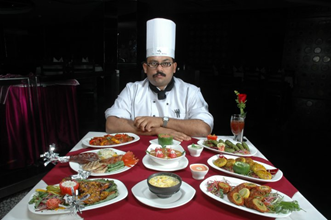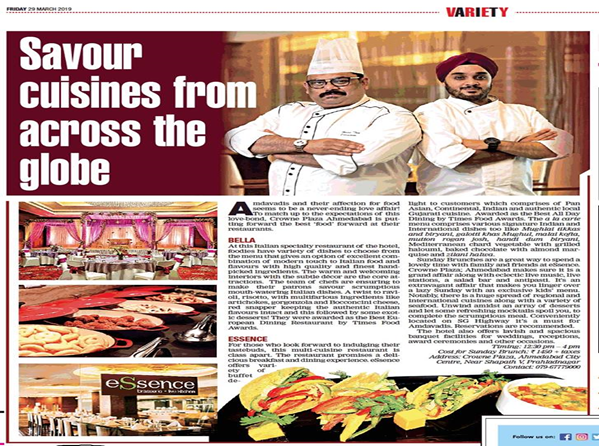 Umang Arora: Batch 2009-2013
The student graduated from M.S.Ramaiah College of Hotel Management and joined Claridges, Delhi as an Intern and Specialized in Indian cuisine. He then worked for the YUM group (KFC,Pizza Hut, Taco Bell etc). After gaining immense expertise in Indian Cuisine, he joined as a Managment Trainee at Taj group of Hotels & Resorts. Very soon he worked his way up to be a Jr Sous Chef at Taj Lands End, Mumbai and now he is the Executive Chef & Consultant of the Cawnpore Club Ltd.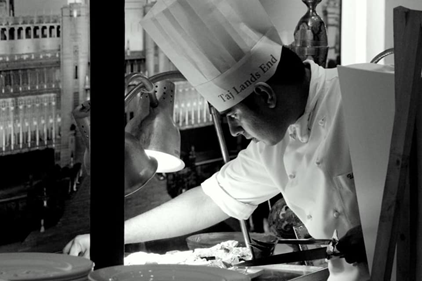 Iniyan Vijay
Restaurant Chef at Hockley Valley Resort
He is from New Delhi, India and currently lives in Orangeville, Ontario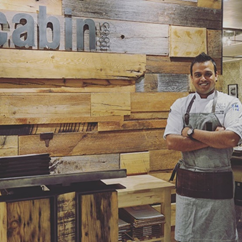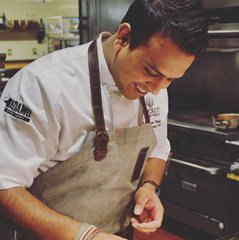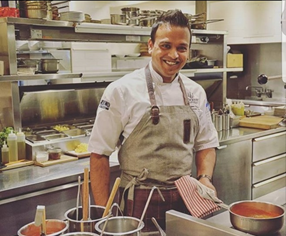 Interview with Chef Iniyan Vijay
Posted by: Agatha Podgorski
Date Published: April 22, 2018
What's your favourite seasonal ingredient?
I can't wait until we are enjoying the fresh ingredients of spring in Ontario! Ramps are a great spring choice, especially for pickling – they are also perfect for steamed mussels or in a risotto. One of the things I love most about our on-site garden is that it allows us to grow what we love!
In the summer, I love tomatoes. We use them to make jams, preserves, sauces and salads, and there are so many varieties to choose from; we grow a wide variety in our garden.
Fall calls for swiss chard, it's a great fall ingredient because it's hearty an earthy, perfectly suited to fall.
Cellared root vegetables is our go-to in the winter, I love using ingredients like carrots or parsnips, which are amazing as side dishes or braised as part of a dish.
What's your drink of choice?
Craft Beers are my favourite in the summer! I love to try different local brewers, one of my favourites is Side Launch, which is located in Collingwood.
Most underrated ingredient?
Turnips! They come in a variety and are so versatile. I love to use them raw in salads, as well as pickling them to serve with our in house-made salumi. So tasty!
Favourite restaurant?
Cabin is, of course, my favourite! I also love Richmond Station*, Chef Carl Heinrich focuses on great rustic food. My all-time favourite is Per Se in New York, though.
What's the best part of working with Ontario food and drink?
Working with Ontario Food & Drink has been incredible. I love working with local farmers and showcasing what they have to offer, as well as being able to tailor our menu to feature what's seasonal locally. It's so great that guests, chefs and restaurant owners have started appreciating farmers more and are taking an interest in where their food comes from.
Why is Feast On important to you and your restaurant?
Feast On is a fantastic forum for locals to get interested and involved in Ontario-grown food and it continues to help chefs, restaurant owners, farmers and foodies to build relationships focused on Ontario farming.
Fill in the blank: "If I entered a competitive eating contest, I'd definitely win if the item was _______".
Buffalo chicken wings, they are a favourite, for sure.
What does your 'Perfect Weekend' in Mono look like? My perfect weekend is when the resort is humming with guests, like when we are full with weddings or conferences, when cabin is sold out for dinner and when Babbo patio is packed with poolside! It's when I'm super busy preparing fresh, farm-to-table fare for both the resort and the winery. It's when I am at my happiest!
Siddhant Chalke: Batch 2011-2015
His roots are from Maharashtra but he has been living in Bangalore since birth. He graduated from M.S.Ramaiah College of Hotel Management in the year 2015. After that he has worked for prestigious hospitality brands like the Hyatt and the Ritz-Carlton and currently he is a concierge at the Four Seasons Hotel Bengaluru at Embassy ONE. His love for the city's culture, history and its offerings to travelers motivated him to pursue a career as a concierge. His aim is to get the Golden Keys from Les Clefs D'or International.
He recently got pinned as a Regional Member of the Concierge Association of India's Southern Region.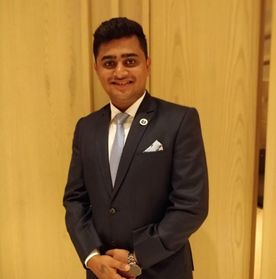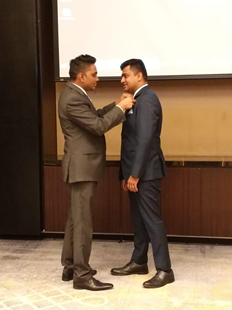 Mohnish Raj: Batch 2011-2015
The student won the year opening flair championship organized by IFBA and greater than gin in a food and hospitality expo in Goa, Panjim. There were more than 35 participants from all over India and Nepal as well.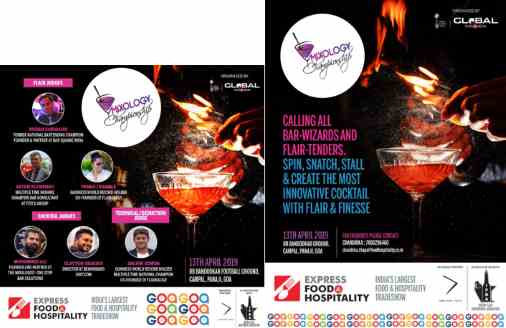 Ms. Hazel Carolyn Xavier: Batch 2014-2018
Head Concierge, The Oberoi, Bengaluru

The student was awarded 'Star Employee of the Month-March 2019' at The Oberoi, Bangalore.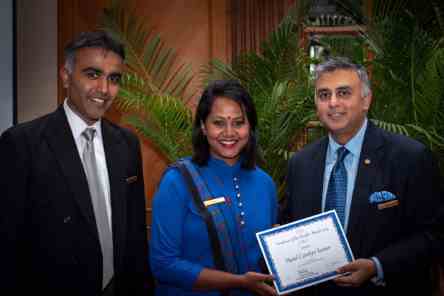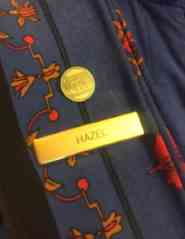 Joyraj Koner: Batch 2014-2018
Learning & Development Coordinator at ITC Gardenia, Bangalore, India
The student has been recognized numerous times by the company for his commitment and dedication towards his role. He received the "Employee of the Quarter" followed by the "Employee of the Year" award for his continuous dedication towards fulfilling his roles with the brand.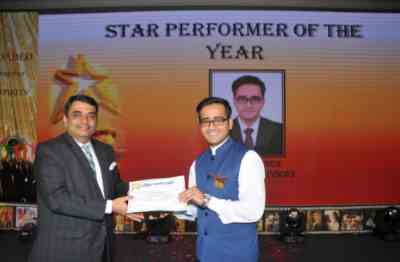 Pradeep Benjamin Antony: Batch 2014-2018

The student won the Old Monk Mix Masters 2019 that was held in the month of March 2019 at Cirkus bar in HSR. The competition consisted of 100 bartenders from all over Bangalore. He made Rhum Banoffee that was inspired by a banoffee pie. He also received Rs 10000 as cash prize, old monk mixology kit, tastecrakt mixers, a trophy and his hotel got flat 30% off on all old monk product purchases for 1 year.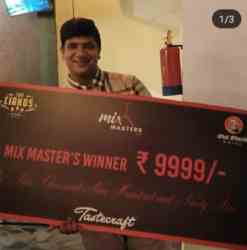 S Sai Naga Rohith: Batch 2017-2021
The student was awarded with participation certificate of Paul John Indian Single Malt Whisky training held on 13 February, 2019 at Taj Yeshwanthapur, Bangalore where
he was undergoing IET.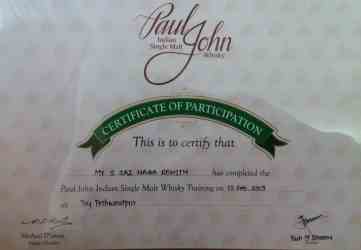 Sharath Kumar: Batch 2011-2015

The student cooked non-stop for two days from 27th April 08, 07:26 am to 29th April 08, 07:26pm. The event was sponsored by Freedom Cooking Oil and Faculty of Hospitality Management and Catering Technology, Ramaiah University. He cooked about 201 dishes, which weighed about 396kg of cooked food. Food from different cuisines were prepared like South Indian, Indian, Italian, Mexican, American, Chinese, French etc. Baking was also done. The cooked food was distributed to NGO kids, students, visitors and crew. The event was witnessed by India book person. His record attempt has been approved by INDIA BOOK OF RECORDS, ASIA BOOK OF RECORDS, LIMCA BOOK OF RECORDS, GUINNESS BOOK OF RECORDS and also awarded in TOP 100 RECORDS of 2018.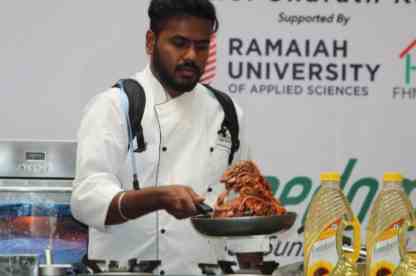 Suresh DC: Batch 2009-2013
The student graduated from M.S.Ramaiah College of Hotel Management and joined Taj Hotels as hotel operation management trainee. He then joined Alchemy restaurant in The Chancery Pavilion Bangalore and became the head chef in 4 years. He is currently working with celebrity chef Hari Nayak who is a restaurateur, author as well as a culinary consultant in North America.