Workshops
Workshop on "Social Intelligence at Work Place"
A workshop was organized by DTSLD on 14th May 2019 from 9 am to 1 pm at the Faculty of Dental Sciences. The workshop was based on "Social Intelligence at Work Place". The Resource Person discussed on various topics such as:
The meaning and importance of social intelligence at work place
Various indicators of social intelligence
Difference between "nourishing" and "toxic" behavior
Five factors to social intelligence/SPACE Formula (S- Situational Awareness, P- Presence, A-Authenticity, C- Clarity, E-Empathy)
The workshop consisted of various activities. The first activity being a discussion on our personal experiences of our best teachers, their inspiring qualities and how they influenced us. Then it led us to our next activity which was to recall and describe any challenging situation with someone at workplace. Most of us gave a brief of any particular incident by stating the background of the incident, the actual situation and the result. Then we went on for our third activity which was filling up of questionnaire on social intelligence and analysis of the same along with the resource person. The workshop ended with all of us affirming on being more self-aware.
Faculty members from different faculties participated in the workshop. From Faculty of Hospitality Management and Catering Technology the participants were Ms. Pratisha Baruah and Ms. Shashi Binani.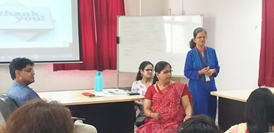 Description of the Event: The program covered basics of novel/ modern cuisine. This was organised at Dharwad on 31st March 2019. The faculty member of FHMCT Mr. Shyam Prasad along with the BHM 8th Semester student Kiran demonstrated the preparation of various dishes such as Shakarkand Tikki, Kashmiri Pulao,  Raita and Rajbhog using innovative cooking techniques involving fusion of western cooking practices in Indian cuisine
Name of the Event: Workshop on Entrepreneurship Development
Date and Time: 13.04.19, 10.30 am
Description of the Event:
As part of the course called Entrepreneurship Development, a workshop was conducted for the VI semester students. The students had a lively interactive session, with the speakers clearing doubts and myths about entrepreneurship. The entrepreneurship qualities and Information needed to prepare a business plan was discussed.
The speakers Mr. Ragunandhan, Chef and Ms. Shreya Gupta, Centre Head-Bangalore from the Academy of Pastry Arts India also shared details like location selection, SWOT analysis, client profile, target profile, marketing strategy, branding, layout-based on business, budget planning, legal documentation, menu planning, payment mode, profit & loss, taxation etc
Demonstration on selected bakery products was also done by the speakers.
Name of the Event: Workshop
Date and Time: 11 April 2019, 9.30 am to 12.30 pm
Description of the Event: A workshop was organised for the 6th Semester PCE – I Culinary Art students on "Food Preservation" By Dr. Jamuna K V, Department of Food Science and Nutrition, GKVK Bangalore. The objectives of the session was to describe the importance of food preservation and its methods and to demonstrate preservation of processed fruits and vegetables