Testimonials
---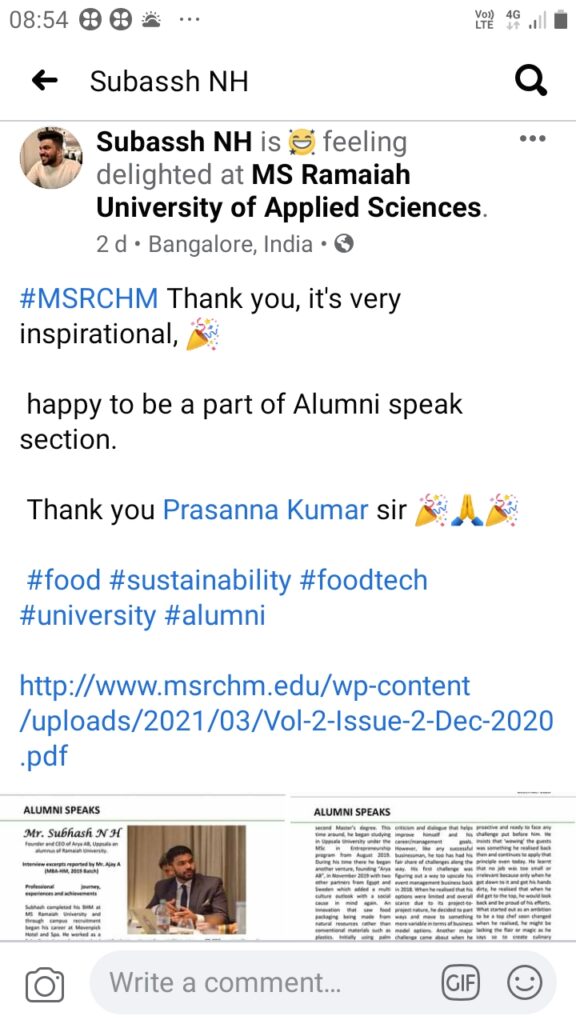 Joyraj Koner: Batch 2014-2018
Learning & Development Coordinator at ITC Gardenia
Bangalore, India

"
I would like to take this opportunity for expressing my sincere gratitude to the management & the faculty members of RUAS, FHMCT, without whose help, I wouldn't be in a position to write this.
I consider myself fortunate enough to have been placed in such a unique department, serving a unique role with one of the leading Hotel chains of the country. My dream and aspirations has been made possible by the collective efforts of team FHMCT, by inculcating the ethics, morals and values of a professional during my days in college. All the teachings, lessons and assignments that I have gone through have gradually helped me develop, sharpen & polish my skillset to earn this rewarding job and has also contributed in recognizing me as a competent resource for the company.
While on the same subject, I would like to throw some light on the high standards of grooming & personal development that is maintained in RUAS – FHMCT and due to which I blended seamlessly into the white-collar industry. When I look back on all those days of hard work and pain, I can say with pride & honour, that they were totally worth it. I would be forever indebted to my alma matter and its wonderful team of faculty members for the many lessons and opportunities that was given to me."

---
Madhusudhan Kashyap: Batch 2012-2016
"I felt welcomed and at ease from the first day I entered the college. The staff are some of the most amazing people I've met and I owe a great deal of my career to them. We were always encouraged to take part in various co-curricular activities and competitions, this not only helped in our holistic growth, but also helped us in building a network with other professionals and students. I would like to thank everyone at FHMCT for their continued support and encouragement. "
---
Parismita Baruah: Batch 2014-18
F&B Assistant,The Oberoi Bangalore

"FHMCT, RUAS has been the backbone behind my personality, skills and a successful career.
I owe a lot to the professors and management for molding me into a good hotelier."
---
Tia Anasuya: Batch 2011-2015
When I studied Hotel Management at Ramaiah, it was called M.S. Ramaiah College of Hotel Management. We were still under Bangalore University, our building was still half under construction and every day I had poori and musk melon juice at the only breakfast place on campus, Ganesh Darshan. I loved every minute of it.

Today though, you enter the gates of M.S. Ramaiah University of Applied Sciences (now independent from BU), it looks like a university that could easily stand up to any foreign university in the world today. Stunning greenery is everywhere you look and there is an enhanced air of academia. You see students who lead well-balanced lives between extra curricular activities, and learning their curriculum. You can tell because while there are a few stressed out faces, as is the case in any institute most of the faces are all smiles while they now devour food from the wide variety of eating joints that have sprouted all over campus. The progress of this university has been truly incredible.

One thing that hasn't changed though is the commitment of the faculty to excellence, in both imparting their knowledge to the students as well as being there for them as people to support them in their lives. The faculty has always managed to strike a healthy balance between being lecturers and being fully approachable even outside class to hear out a student in need. This is why, although hotel management is a difficult field to enter into, with long work hours, and a physically and mentally demanding work environment, the students are prepared for the world they will enter into after graduating college, whichever path they choose, because the faculty have strengthened them and given them all the knowledge necessary for a successful career.

I have worked in a few different countries, and I didn't realize it before but this college gave me the tools I required to hold my own in different international kitchens around the world. I have made lifelong friends, from both the student body and faculty at Ramaiah and I am proud to call M.S. Ramaiah University of Applied sciences my alma mater.

Hazel Carolyn: Batch 2014-2018
"I Hazel Carolyn is grateful for Ramaiah, as it has given such a wonderful start to my career and has founded with opportunities that has helped me nurture my strengths in the hospitality industry. The faculty of Ramaiah have always been our shining armour and been by our side throughout the tenure. Much appreciation to FHMCT.
I hold currently the position of Concierge of The Oberoi, Bengaluru and a member of Southern region concierge association of India."