Alumni Engagement
ALUMNI SPEAK – SERIES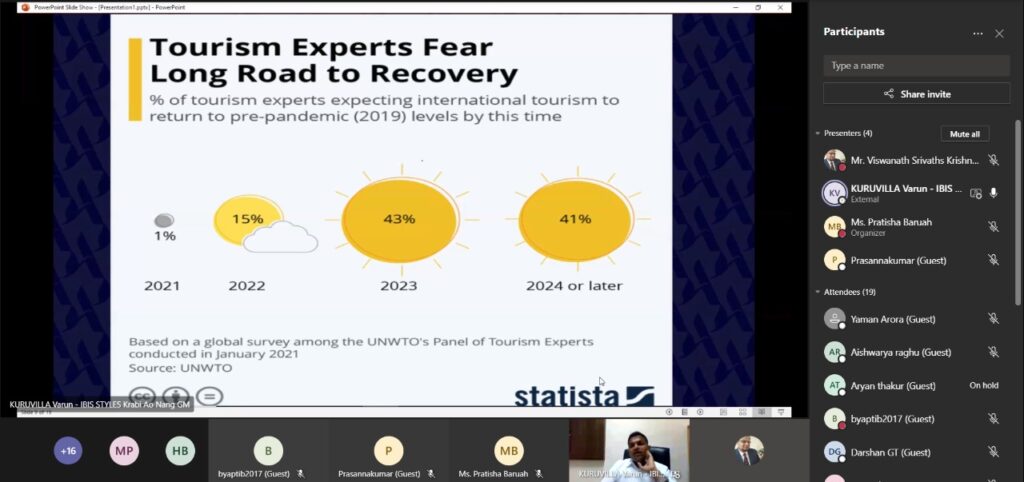 Description of the Event:
Mr. Subhash Nagaraju Hemavathi, Founder and CEO at Arya Ab, Uppsala and Intern-Key Accounts Manager-Assistant at Unilever Stockholm interacted with the final year students. He is an alumni of FHMCT, Batch 2006-2010. He spoke on Hospitality Entrepreneurship and Start- ups.
This seminar was organised as part of the curriculum of the course Hospitality Legal Environment and Entrepreneurship. He gave the students input on various trends of entrepreneurship in food and hospitality, his personal journey on start- ups, success and failures in food start- up. He also spoke about the important lessons learnt during his hospitality days.

Mr. Shreyas Bhatt, Chef-in-Charge of the restaurant Hammered, is an alumnus of MSRCHM, Batch 2000 – 2014. He interacted with the students of batch 2015-19 and spoke to them about the various facets of Special Culinary Art 28th May 2019
Mr Gurudath of Pizza Bakery is an alumnus of MSRCHM and interacted with the students of batch 2015-19 and addressed the intricacies of Restaurant Entrepreneurship on 28th May 2019
Venkatesh Subramani
Mr Venkatesh Subramani, is an alumnus of MSRCHM and interacted with the students of batch 2015-19 and addressed the intricacies of Housekeeping Entrepreneurship on 28th May 2019
Tia Abraham
Ms. Tia Abraham, batch 2000 – 2014 interacted with the students of batch 2017-21 and addressed the challenges and opportunities faced by hospitality students during the industrial exposure training. Her valuable inputs would go a long way in preparing the students for the hospitality industry
Snijith Nair:
Nov 2015- Seminar on Opportunities in the Tourism Industry (MBA Hospitality)

Vivek Alby: Batch 2011-2015
Nov 2015- Field Visit to Natures Basket (MBA Hospitality)

Monish Raj: Batch 2011-2015
Nov 2017 Sensory Evaluation for Pairing Cocktails and Kebabs

Madhusudhan Kashyap: Batch 2012-2016
Dec 2018- External Examiner for first semester

Tia Abraham: Batch 2011-2015
Jan 2019- Host for Smart Food Culinary Challenge (Reality Show)

Namrata Stanley: Batch 2000-2004
March 2019 – Seminar on Wine Tourism and Career Opportunities in the Wine Industry in France

Mr. Joyraj K: Batch 2014-2018, Learning & Development Executive, ITC Gardenia
Date: 22nd March, 19
Time: 2:30-5:30 pm
Delivered a lecture during Field Visit at ITC Gardenia

Mr. Yeshasvi Singh: Graduated from MSRCHM: Batch 2008-2012, Assistant Manager- Revenue Management & Distribution, Lemon Tree Hotel
Date: 20th Nov, 17 (Monday)
Time: 2:30 to 4:30 pm
Delivered a seminar on: Role of PMS and the technologies utilized in the hotel industry, maximization of room revenue through forecasting