International
Iniyan Vijay
Restaurant Chef at Hockley Valley Resort
He is from New Delhi, India and currently lives in Orangeville, Ontario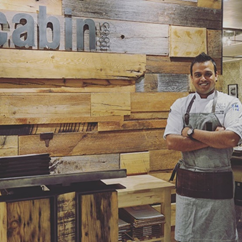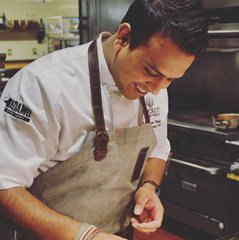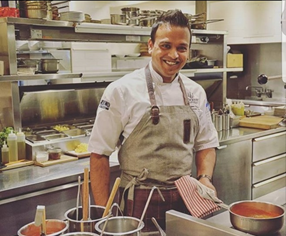 Interview with Chef Iniyan Vijay
Posted by: Agatha Podgorski
Date Published: April 22, 2018
What's your favourite seasonal ingredient?
I can't wait until we are enjoying the fresh ingredients of spring in Ontario! Ramps are a great spring choice, especially for pickling – they are also perfect for steamed mussels or in a risotto. One of the things I love most about our on-site garden is that it allows us to grow what we love!
In the summer, I love tomatoes. We use them to make jams, preserves, sauces and salads, and there are so many varieties to choose from; we grow a wide variety in our garden.
Fall calls for swiss chard, it's a great fall ingredient because it's hearty an earthy, perfectly suited to fall.
Cellared root vegetables is our go-to in the winter, I love using ingredients like carrots or parsnips, which are amazing as side dishes or braised as part of a dish.
What's your drink of choice?
Craft Beers are my favourite in the summer! I love to try different local brewers, one of my favourites is Side Launch, which is located in Collingwood.
Most underrated ingredient?
Turnips! They come in a variety and are so versatile. I love to use them raw in salads, as well as pickling them to serve with our in house-made salumi. So tasty!
Favourite restaurant?
Cabin is, of course, my favourite! I also love Richmond Station*, Chef Carl Heinrich focuses on great rustic food. My all-time favourite is Per Se in New York, though.
What's the best part of working with Ontario food and drink?
Working with Ontario Food & Drink has been incredible. I love working with local farmers and showcasing what they have to offer, as well as being able to tailor our menu to feature what's seasonal locally. It's so great that guests, chefs and restaurant owners have started appreciating farmers more and are taking an interest in where their food comes from.
Why is Feast On important to you and your restaurant?
Feast On is a fantastic forum for locals to get interested and involved in Ontario-grown food and it continues to help chefs, restaurant owners, farmers and foodies to build relationships focused on Ontario farming.
Fill in the blank: "If I entered a competitive eating contest, I'd definitely win if the item was _______".
Buffalo chicken wings, they are a favourite, for sure.
What does your 'Perfect Weekend' in Mono look like? My perfect weekend is when the resort is humming with guests, like when we are full with weddings or conferences, when cabin is sold out for dinner and when Babbo patio is packed with poolside! It's when I'm super busy preparing fresh, farm-to-table fare for both the resort and the winery. It's when I am at my happiest!
Sharath Kumar: Batch 2011-2015
The student cooked non-stop for two days from 27th April 08, 07:26 am to 29th April 08, 07:26pm. The event was sponsored by Freedom Cooking Oil and Faculty of Hospitality Management and Catering Technology, Ramaiah University. He cooked about 201 dishes, which weighed about 396kg of cooked food. Food from different cuisines were prepared like South Indian, Indian, Italian, Mexican, American, Chinese, French etc. Baking was also done. The cooked food was distributed to NGO kids, students, visitors and crew. The event was witnessed by India book person. His record attempt has been approved by INDIA BOOK OF RECORDS, ASIA BOOK OF RECORDS, LIMCA BOOK OF RECORDS, GUINNESS BOOK OF RECORDS and also awarded in TOP 100 RECORDS of 2018.