Achievements
'STAR OF THE BAR', organized by Amity School of Hospitality
FHMCT is proud of Chetan M. V. of the 2016 Batch who won the 1st Prize and prize money of Rs. 3000 in an online cocktail recipe writing competition 'STAR OF THE BAR', organized by Amity School of Hospitality from 8th to 11th May 2020. The judges included renowned bartenders and hospitality professionals.
"Culinary Competition – A.S.K. Institute of Hospitality Management and Culinary Arts "
The A.S.K. Institute of Hospitality Management and Culinary Arts conducted a Culinary Competition on 18.01.20, where a number of Hotel Schools had participated. It was organised in association with Better Kitchen, India's only bi- monthly magazine exclusively devoted to meet the domestic and commercial kitchen needs and solutions and the Everest brand. The theme of the event was" Flavors of India". The students had to innovate dishes for three courses. Sixth semester students Ananya Srivastav and Abhishek Gowda were awarded the first place for the competition. They will represent FHMCT in the final round in Mumbai in February 2020.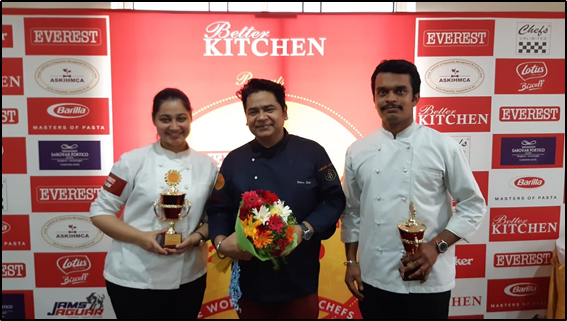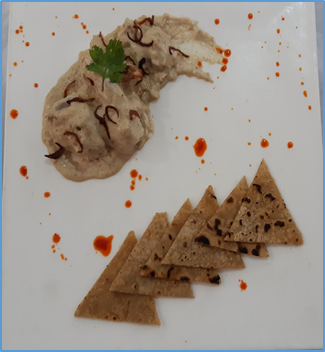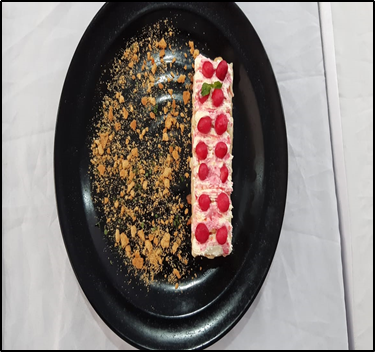 "British Parliamentary Debate"
Barirah Ahmed Kasim and Prajwal Shetty, students of FHMCT, participated in the British Parliamentary Debate organized by DTSLD at the Peenya Campus of Ramaiah University on 21st and 22nd November 2019. They made it to the top 5 position out of top 22 teams.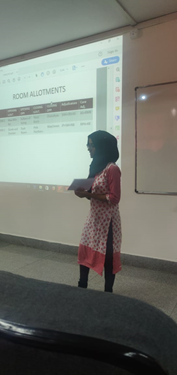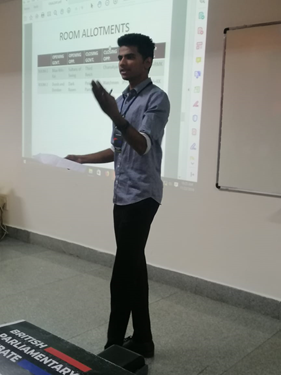 Student Author
Date: 12.10.19
Description of the Event:
FHMCT is proud to announce that one of the final year student, Mr Jakin Benjamin has published a book named 'The life of a newbie Hotelier'. It has some fun- filled anecdotes of a life of a hotel intern. The experiences of the student- author while he was interning in a hotel inspired him to publish this book. The title is well- chosen as an intern is a newbie- an inexperienced newcomer of a hotel.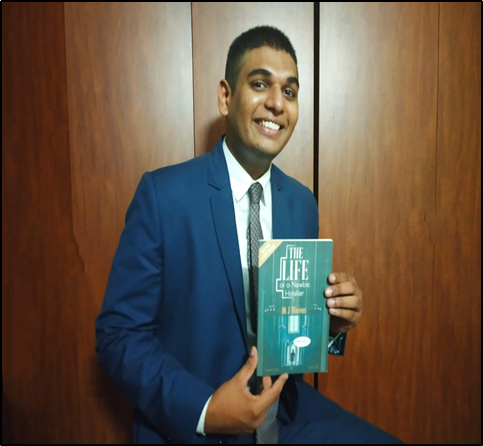 Nitte National Training Programme on E-governance for Sustainable Development
Date: 10.10.19
Mr Raghavendra T. and Mr Sreekanth N. of the Food and Beverage Service Department attended a Nitte National Training Programme on E-governance for Sustainable Development FPO organised by Justice K.S. Hegde Institute of Management and National Institute of Agricultural Marketing. The programme provided them with a practical overview of the critical elements of e-governance implementation. The sessions covered the concept , various models and challenges of e-governance. It also identified corporate activities where e-governance can be implemented .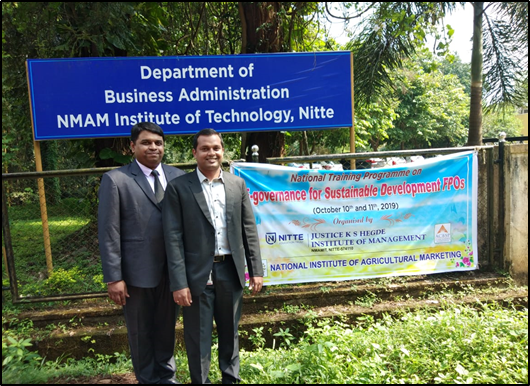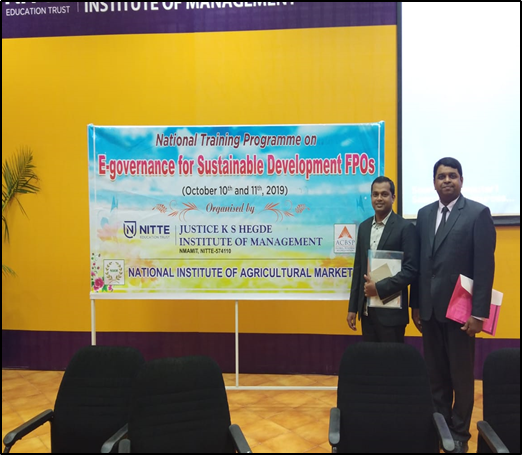 We are proud to announce that Ms Vineeta Singh, Assistant Professor from FHMCT finds time on most weekends to compete/ participate in marathons and cycling. It is her passion. Her hard work and perseverance has taken her to new heights.
She participated in Bangalore Marathon (2017)= 21km, Bangalore Marathon (2018)= 21km, Bangalore Marathon (2019)= 21km, NEB 10KM Challenge, (Bangalore Mountain Festival) trail track running (10km), Millet run 5km
She also pursues cycling and has participated in BBCH(Bangalore bicycle championship ) MTB Xc(Cross country) race 2019, got second place (2nd position), participated in BBCH, Team Time Trail race , won the 1st position , 2019. She also participated in Btwin Cyclothon organised by Decathlon and won 4th position, 2019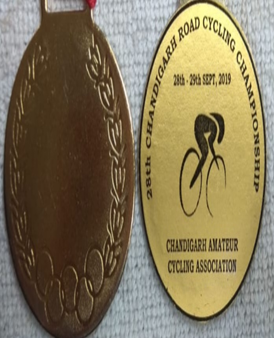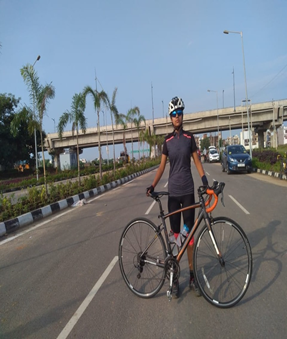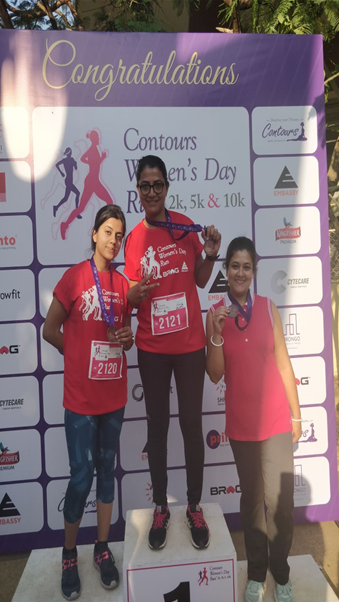 The highlight is that she won the first position in the 28th Chandigarh State Road Cycling Championship and will be partipating in the National Road cycling championship.
Date: 30.09.19
SKAL international Bangalore organised SKAL World Tourism Day Quiz 2019. The participants were Hospitality and Tourism professionals working in the Tourism / Hospitality Industry. Two teams from FHMCT participated and one team stood in the top 5 positions.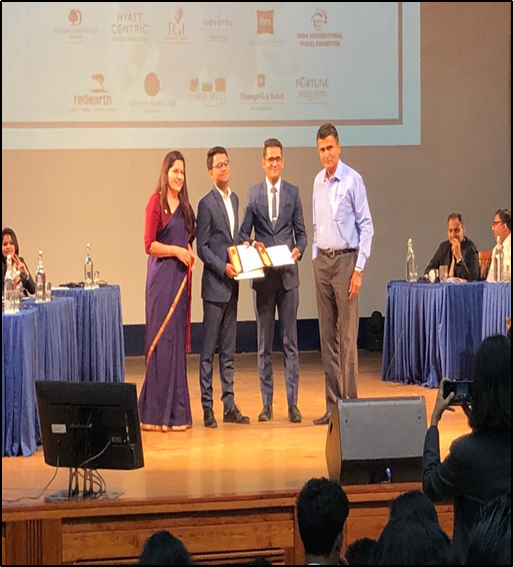 T John College of Hotel Management conducted their annual festival Blaze which included technical, cultural and sports events on 19th & 20th September 2019. Students of FHMCT participated in the technical and sports competitions. They procured second place in bartending and Housekeeping competitions. Secured third in quiz competition.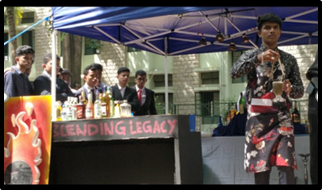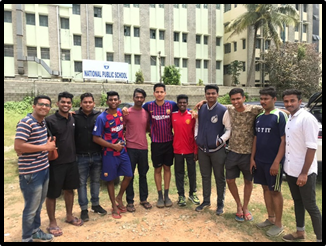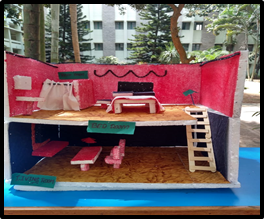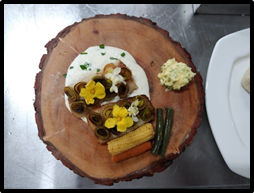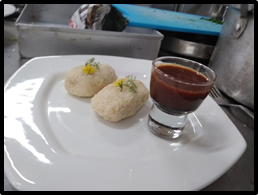 The students of FHMCT participated in the prestigious intercollegiate festival organised by the Ramaiah Medical College students on 12th September 2019.
The students participated in few events like battle of the bands, Group dance, General quiz, to name a few.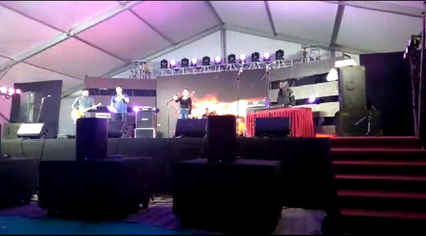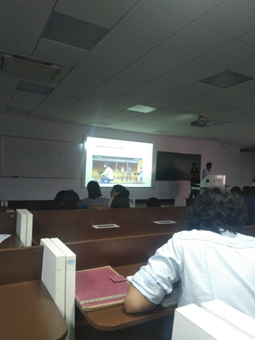 The students of FHMCT participated in Gardenia 2019, the annual cultural youth fest organised by Garden City University from 29th – 31st August 2019 at our University campus. The students participated in few technical and non- technical competition. They won few prizes, received 1st prize for creating an innovative health drink. Chethan and Rohith won the prize and Prince won 1st prize for 'Too fit to quit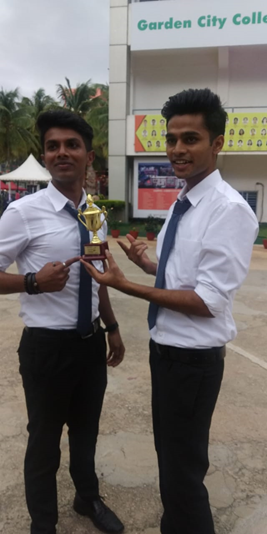 Foodex Culinary Challenge 2019 was held on the 30th Aug 2019 at BIEC Bangalore.
Battle of the band was a competition conducted to select the best chef who can make the best biriyani in the country and student Chefs Rabiya Khan and Vamshadeep from FHMCT secured the Gold medal.
Kaushik and Akshitha secured silver medal for making wonderful Petit Fours
Harshith and Kalvin won silver medal for churning out a 3 course menu
Samyukta and Sahil won bronze medal for preparing and presenting Plated Appetizers
The FHMCT students participated in a five day event 26th to 30th June 2019 at Vivanta by Taj MG Road Bangalore, and provided assistance for Skal Asia Congress Meeting to make it a big success.
The Training Manager Mr. Valentine Athaide praised and appreciated the dedication and commitment of the students.
It was a great learning experience for the students and the appreciations received further motivated them.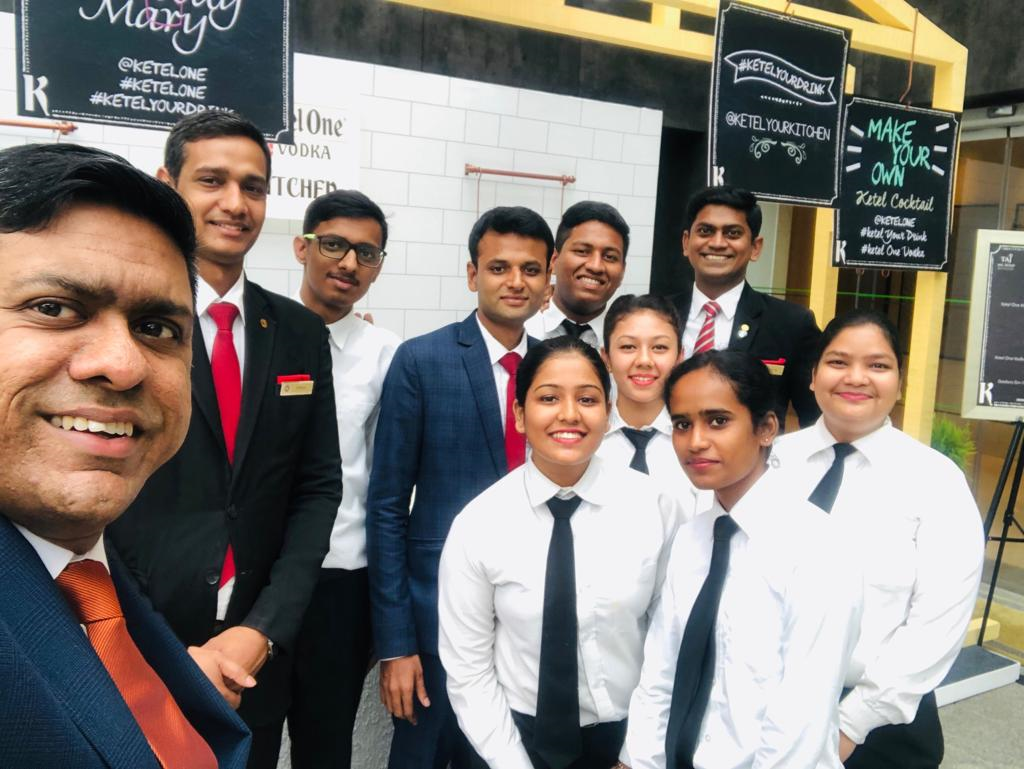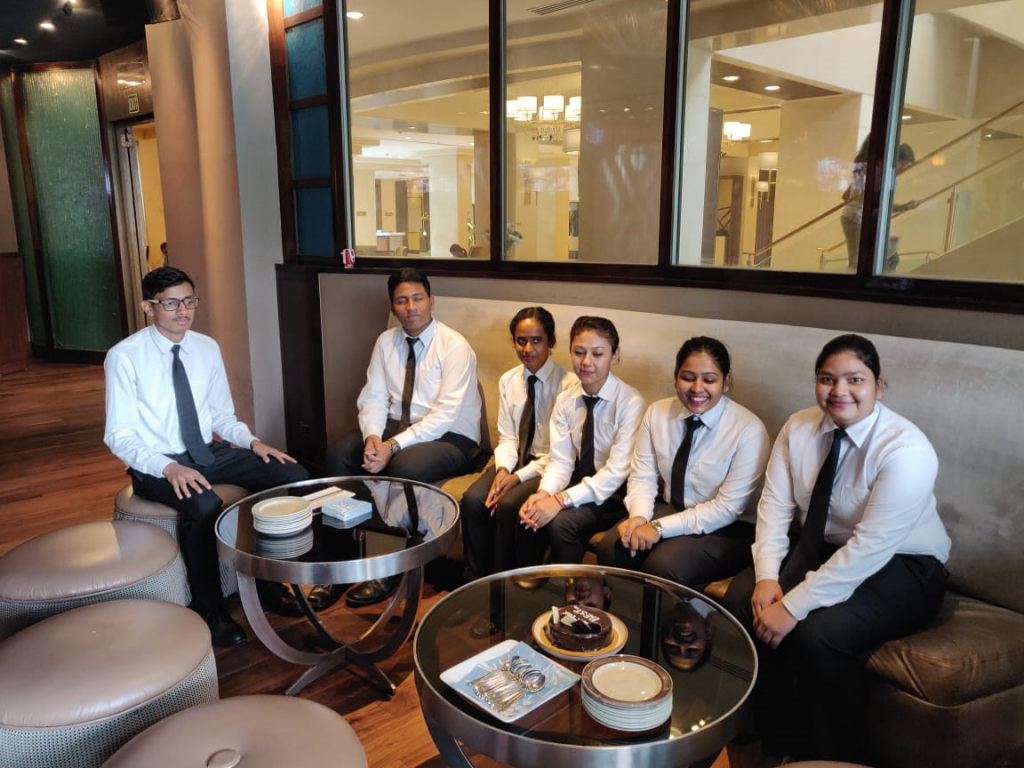 Name of the Event: Inter- collegiate Competition
Date and Time: 10.04.19, 8am to 8pm
Description of the Event:
Selected students from the VI and VIII semesters participated in the inter- collegiate competition organised by KLE college of Hotel Management on 10.04.19. Various competitions on Cooking, bar, flower arrangement etc were organised. Students of FHMCT, RUAS won the overall championship by standing first in most of the competitions. It was a great learning experience for the students.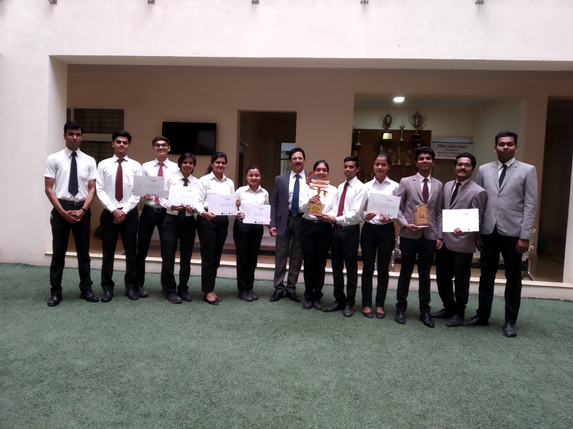 Name of the Event: Intellectual Property Week 2019
Date and Time: 25th April to 26th April 2019 2:00pm to 5:00pm
Description of the Event: The following students of FHMCT has participated in different competitions organised by the Ramaiah Intellectual Property Right Cell
1-Photography Competition:- Susmitha , Bvoc, 1st yr
2- Cartoon Making Competition:- Chithira and Susmitha, Bvoc, 1st yr
3- Poster Making Competition:- Chithira and Susmitha, Bvoc, 1st yr
4- Quiz Competition:- Ahuti and Adithya, BHM, 1st yr
5- Treasure hunt – Ankita and Anurag, BHM, 1st yr
Students from FHMCT won the second prize in the quiz competition
Internship appreciation
Batch 2017-2021
| | | | |
| --- | --- | --- | --- |
| Sl no | Name of the Student | Hotel | Achievement |
| 1 | Sai Naga Rohith | Taj Yeshwantpur | The student participated in Paul John Indian Single Malt Whisky training and was appreciated for the same |
| 2 | Sowparnica M. | SheratonGrand Bangalore | The student received appreciation letter for good performance in Front Office department |
| 3 | Bijesh.S | Radisson Blu Jaipur | The student received appreciation letter for good performance during his training period |
| 4 | Godwin T Tharakan | Radisson Blu Jaipur | The student received appreciation letter for good performance during his training period |
| 5 | Gokul Raj.M.S. | ClubMahindra Varca beach Goa | The student received appreciation letter for hard work, honesty & sincerity during his training period |
| 6 | Barirah Ahmed Kasim | Radisson Blu, Jaipur | The student received appreciation letter for good performance from the House Keeping Department |